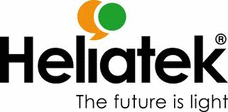 Profile
Heliatek aims to become a worldwide leading company for a sustainable and carbon free future. The company holds the organic photovoltaic world record in cell efficiency with 13.2%. Combining the know-how in chemical synthesis and applied physics as well as transferring it to volume production, Heliatek is the first company to start the market launch of large OPV solar film.
Founder

Thibaud Le Séguillon
CEO
Startup-Programme

High-Tech Gründerfonds
Innovation
Innovation
The organic solar film from Heliatek is now making possible a wide range of applications, where conventional solar technology reaches its limits. Buildings will have active façades and cars will be emission free. Start the future with HeliaFilm® and HeliaSol®.
Product portfolio
More about heliatek
Companies

Heliatek, a global leader in high-end solar PV technology, was spun-off in 2006 from the Technical University of Dresden (IAPP) and the University of Ulm. The company's founding brought together internationally renowned expertise in the fields of organic optoelectronics and organic oligomer ... more