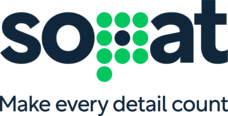 Measure particle sizes from 0.5 to 50,000 µm in real-time and under the most extreme process conditions
The Top 3 Advantages of the Product
1
Process Optimization & Quality Control
2
Real Time Process Monitoring
3
Simultaneous Analysis of Diverse Particles
Perfectly suitable for Emulsions, Crystallization, or Polymerization
SOPAT develops a photo-optical, image-based analysis measurement technology that quantitatively characterizes particulate multi-phase systems. In combination with our hardware, real time analysis of particle size distribution and characteristics is made possible with the innovative SOPAT software.

Diverse applications are possible to measure with our innovative particle size analysis technology, be it concentration, size, form, or distribution. Measurements occur inline during the production process, so neither sampling nor dilution is necessary. This guarantees that the sample does not change on its way to the laboratory and that the process can therefore run smoohtly and without interruption.

The protection tube that comes into contact with the medium is variably adjustable in terms of length, as well as temperature and pressure durability. This flexibility allows the fabrication of a SOPAT particle measurement system optimally tuned to your production process. With the help of the SOPAT probes, inline measurement of particle sizes is possible between 0,5 and 9.300 µm. The SOPAT InView allows atline measurements to the size of 50.000 µm. SOPAT relies on the technical know-how of the company, innovative developments of the system, and high-quality materials in production.
Applications
particle size distribution

particle measurement
Target Industries
Biotechnology

Chemistry

Beverages

Plastics

Food

Pharma
Find out More in the Video