My watch list
my.chemeurope.com
my.chemeurope.com
With an accout for my.chemeurope.com you can always see everything at a glance – and you can configure your own website and individual newsletter.
My watch list
My saved searches
My saved topics
My newsletter
In information theory, the conditional entropy (or equivocation) quantifies the remaining entropy (i.e. uncertainty) of a random variable Y given that the value of a second random variable X is known. It is referred to as the entropy of Y conditional on X, and is written H(Y | X). Like other entropies, the conditional entropy is measured in bits, nats, or hartleys.
Additional recommended knowledge
Given discrete random variable X with support

and Y with support

, the conditional entropy of Y given X is defined as:

From this definition and Bayes' theorem, the chain rule for conditional entropy is

.
This is true because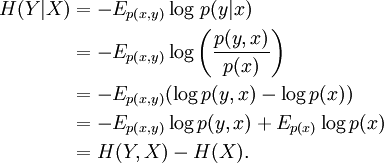 Intuitively, the combined system contains H(X,Y) bits of information: we need H(X,Y) bits of information to reconstruct its exact state. If we learn the value of X, we have gained H(X) bits of information, and the system has H(Y | X) bits remaining of uncertainty. H(Y | X) = 0 if and only if the value of Y is completely determined by the value of X. Conversely, H(Y | X) = H(Y) if and only if Y and X are independent random variables.
In quantum information theory, the conditional entropy is generalized to the conditional quantum entropy.
References
Theresa M. Korn; Korn, Granino Arthur. Mathematical Handbook for Scientists and Engineers: Definitions, Theorems, and Formulas for Reference and Review. New York: Dover Publications, 613-614. ISBN 0-486-41147-8.
This article is licensed under the GNU Free Documentation License. It uses material from the Wikipedia article "Conditional_entropy". A list of authors is available in Wikipedia.