How to save 80% costs of continuous small molecule and biomolecule purification
Simulated moving bed chromatography (SMBC) for higher productivity and significantly lower costs
Simulated moving bed chromatography (SMBC) is an HPLC technique that continuously separates substance mixtures and extracts them into two fractions. Compared with batch systems, SMBC saves up to 90% of solvent and up to 80% of chromatography column costs. SMB chromatography is typically used for two-component mixtures, from which both substances are directly extracted in pure form. Repeated use of SMB chromatography can also separate multi-component mixtures by separating each fraction into further sub-fractions until a two substance mixture is finally separated into two pure products. SMB chromatography is ideally suited for purifying proteins, sugars, oligosaccharides, amino acids, organic acids, fatty acids and enantiomers on a laboratory or pilot scale.
This white paper tells you more about
the basics of SMB chromatography
the basic principle of fractionation
the purification of small molecules using the example of xylitol
the continuous purification of biomolecules
the advantages of SMB chromatography over batch processes
The benefits of simulated moving bed chromatography
Higher recovery rates and purity of your products
Up to 90% lower solvent consumption
Up to 80% lower costs for the solid phase
Higher productivity than with batch systems
Lower pressures due to larger stationary phase particles
Scalable from milligrams to kilograms of purified product
Continuous process
Download the free white paper now and learn, by studying two typical applications, how simulated moving bed chromatography can significantly reduce the costs of your continuous purification while increasing product yield.
White Paper classification
Applications
continuous chromatography
simulated moving bed chromatography
small molecule purification
Product categories
Download white paper now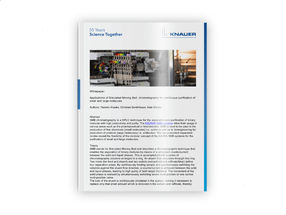 How to save 80% costs of continuous small molecule and biomolecule purification
Simulated moving bed chromatography (SMBC) for higher productivity and significantly lower costs

All about KNAUER
You may also be interested in these white papers