HAVER & BOECKER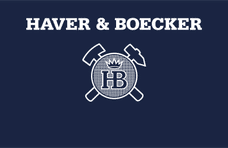 HAVER & BOECKER OHG
Woven wire cloth for filtration, sieving and particle analysis

About HAVER & BOECKER
HAVER & BOECKER is a traditional family-managed, midsize company with headquarters in Oelde, Westphalia, Germany. Under the umbrella of HAVER & BOECKER OHG, one finds the Wire Weaving and Machinery Divisions.

The Wire Weaving Division has had a decisive influence on the technology of wire weaving for more than 130 years. Using innovative manufacturing processes, wire mesh is processed into filters, fabricated parts and industrial screens. These are used for filtration and screening in a wide range of processes within the chemical, plastics and automotive industries as well as in the electronics, aerospace and food industries.

Particle analysis is an area of expertise in Wire Weaving Division. In the field of traditional sieve analysis, Haver & Boecker has been one of the market-leading manufacturers of test sieve shakers and test sieves for many years. These have proven themselves on hundreds of materials in various industries. HAVER sieve shakers and test sieves are used both in the fine measuring range, e.g. in the pharmaceutical and chemical industries, and for quality control of coarse bulk materials such as coal, stones and earth in mining or road construction. In addition, Haver & Boecker has been developing dynamic image analysis systems for particle analysis since the early 1990s, which continue to set new standards in terms of function, precision and reliability.

The Machinery Division specialises in the preparation, transport, storage, mixing, filling, packaging and palletising of bulk materials.

With more than 50 subsidiaries and 150 agencies, HAVER & BOECKER OHG is active on all five continents as a technology leader and trendsetter within its various divisions.
Facts about HAVER & BOECKER
Facts about HAVER & BOECKER
Founding: 1887
Focus : Manufacturer
Employees: 1001-5000
Certifications
Certifications
DIN EN ISO/IEC 17025
ISO 3310
EN 10204
DIN EN ISO 9001
IATF 16949
Products from HAVER & BOECKER
Product portfolio
Bulk goods packaging machines
foreign body screening machines
rotational sample dividers
Product brands
HAVER Ultraschall-Siebunterstützung
Here you will find HAVER & BOECKER OHG
1