Verified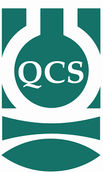 Quarzglas Komponenten und Service QCS GmbH
Quartz glass - Know-how - Technology - Innovation

About QCS
The "Quarzglas Komponenten und Service GmbH" company has been successfully operating on the domestic and international market for several years. The foundation of our company was based on the buyout of the "Labortechnik" product line, formerly a division of the "Heraeus Quarzglas" company.

Therefore, we are actually looking back on more than 50 years of experience when we are now offering our services on the quartz glass market.

We customize special designs that are perfectly meeting your special requirements.

We are producing single pieces and batches and if required, we are also producing an entire quartz glass apparatus including electric equipment, i.e. industrial process measurement and control.

Due to our technological range and the variety of processing capacities, we are able to offer customer-specific solutions.

Acc. your custom-made request, please call me or send an email, so that it´s possible to clarify the technical details.

On inquiry we will prepare an individual, custom-made offer for the best technologic and economic solution.

Due to our technical skills we are the perfect partner for customers in the fields: laboratory distributor, science, research and industry.

It is a safe bet that we are going to find a future-proof solution for your application, too moreover, you can feel certain that our ISO 9001 certified company guarantees a continuous quality of processes and products.
Facts about QCS
Facts about QCS
Focus : Manufacturer
Employees: 11-50
Industry : Laboratory equipment / supplies
Certifications
Certifications
Here you will find Quarzglas Komponenten und Service QCS GmbH