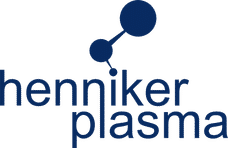 Henniker Plasma
Passionate about Plasma

About Henniker
Henniker the leading UK manufacturer of vacuum & atmospheric plasma treatment equipment & processes

Henniker are an experienced, dynamic and expanding company already established as a leading UK manufacturer of plasma surface treatment equipment and processes, from simple bench-top vacuum plasma cleaners for small scale production and R&D applications, to atmospheric in-line plasmas for industrial and high throughput processes. Developed, designed and manufactured in the UK, our equipment is delivered to worldwide clients in a wide range of industries including aerospace, automotive, medical device technology and electronics manufacturing to name but a few. Our success is built around an exceptional body of knowledge and expertise, backed by highly trained and dedicated staff who understand your application in considerable detail. Standard configurations cover most applications but we also offer a wide range of options that allow us to customise any standard system to your exact requirement.

Products and Services

Henniker offer plasma surface treatment equipment, plasma processes development services, proof of concept trials, and rental hire equipment. Our facilities include state of the art surface testing equipment which enables us to quickly and efficiently assess the results of any process on a wide range of materials.

Who we work with

Typically our clients are either looking to solve a specific problem relating to poor adhesion or are seeking to achieve a specific high value surface functionality to their products. Since these requirements often involve similar materials, such as engineering polymers and composites, the number and range of application areas is large and includes academic and industrial research groups as well as manufacturing areas such as automotive, aerospace, medical plastics, consumer electronics, biotechnology, filtration and many more.

Applications include:-

- Ultra-fine surface cleaning

- Surface activation to improve adhesion

- Low friction surfaces

- Permanently hydrophilic surfaces

- Hydrophobic & oleophobic nano-scale coatings

- Materials include polymers, metals, glass, ceramics and composites

Service and Support

All of our products are backed by a comprehensive warranty and supported from our UK headquarters and regional support centres.
Facts about Henniker
Facts about Henniker
Founding: 2009
Focus : Manufacturer
Employees: 1-10
Industry : Production technology
Products from Henniker
Product portfolio
low pressure plasma systems
Here you will find Henniker Plasma
1