The pH Handbook – A practical guide for pH measurement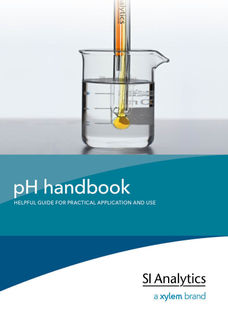 Numerous illustrations, tables and diagrams for clear knowledge transfer
The pH measurement technique is an important part of the analytical methods developed by Xylem Analytics. Whether in water and wastewater analysis, the food and beverage industry, pharmaceuticals and chemistry - wherever aqueous liquids are analysed, we are at home with many years of experience.
With this pH handbook, we impart experience - based on the theory of measurement technology - and give you tips for practice. Use the practical and scientific guide for the right choice of measuring technique and benefit from hints on its handling.
For more helpful tips and tricks from our experts to make your daily business in the lab and in the field easier, check out our blog posts directly on the Xylem Analytics website:
- What is the pH value?​
- Calibration and adjustment of a pH electrode​
- Accuracy of pH measurement​
- Which pH electrode do I need? What is crucial when choosing a pH electrode?​
- Operation, care and storage of pH electrodes​
White Paper classification
Download white paper now
The pH Handbook – A practical guide for pH measurement
Numerous illustrations, tables and diagrams for clear knowledge transfer

All about Xylem
You may also be interested in these white papers