A Risk-Based Approach to Moisture Analysis, Instrument Selection, and Moisture Measurement Accuracy
Effective quality management in moisture analysis involves taking a holistic view across the full moisture analysis lifecycle. It is important to understand that the selection of a moisture analyzer should be based on more than a comparison of technical specifications on a datasheet! Ensuring you get the right moisture analysis solution means you also need to consider sample characteristics, user qualifications, and performance verification. Thanks to the Good Moisture Analysis Practice (GMAP), you can receive a comprehensive recommendation that covers the complete lifecycle—starting with the proper moisture analysis equipment for the intended use, followed by the correct service product and maintenance interval, and, finally, the required routine testing frequency. The GMAP Recommendation takes all these aspects into account in a risk-based approach.
The GMAP white paper provides detailed explanations of the critical aspects of moisture analysis quality management.
Download the white paper and learn the fundamentals of moisture analysis quality management.
White Paper classification
Applications
Good Moisture Analysis Practice
Product categories
Target Industries
Download white paper now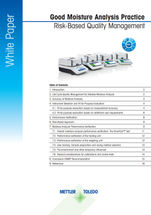 Quality Management in Moisture Analysis−White Paper
A Risk-Based Approach to Moisture Analysis, Instrument Selection, and Moisture Measurement Accuracy

All about Mettler-Toledo
You may also be interested in these white papers