A Predictive Approach to Resin Exhaustion Monitoring in Power Plants
Eliminating contamination of a power plant's water cycle is a critical element of protecting expensive plant equipment such as turbines and boilers from corrosion and pitting. One of the highest-risk places for contamination is ion exchanger break through.

Download the white paper, "Deionization Capacity Monitoring Reduces Water Treatment Costs," at the button below to learn about a proactive approach for predicting when resin exhaustion will occur that offers significant benefits over the traditional elapsed time and totalized flow methods.
White Paper classification
Download white paper now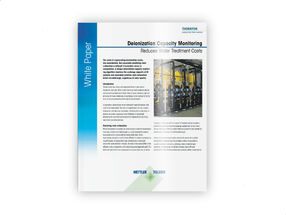 Deionization Capacity Monitoring
A Predictive Approach to Resin Exhaustion Monitoring in Power Plants

All about Mettler-Toledo
You may also be interested in these white papers