Vertoro B.V.
We turn biomass into green gold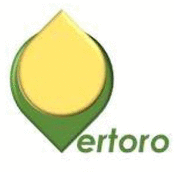 Profile
We're a young and talented group of entrepreneurs and engineers with a groundbreaking idea that will reverberate throughout the bio-based economy. At Vertoro, we believe that, apart from the obvious sustainability and environmental issues, the petrochemical industry can teach us many valuable lessons the bio-based world simply cannot at this time; including, but not limited to, on how to make a profit. Looking at biomass through the petrochemical lens has led to the development of a wholly new platform product: crude lignin oil (CLO). CLO, analogous to the fossil variety, is the basis for countless downstream applications like chemicals, materials and fuels. For such "app" developments, Vertoro welcomes collaborations with any interested third party.
Innovation
Innovation
Our technology is like making espresso. We simply mix a brown powder (lignin) with a solvent (methanol or another polar solvent) at moderate temperatures and pressures. Our products are char, which can be used in asphalt or as a fertilizer, and crude lignin oil (CLO), which can serve as a feedstock for chemicals, materials and fuels. CLO samples up to 1 kg can be made available to any interested academic, capital, or industrial party. For this we can use either your own (technical) lignin or one of the analytical grades we have in stock.