Start-up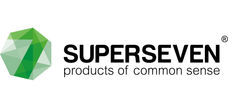 SUPERSEVEN GmbH
compostable I renewable I recyclable
About SUPERVEN
Superseven was founded by Katja Seevers, Hannes Füting and Sven Seevers in 2017. Superseven stands for a holistic product development process and considers the entire product life cycle including raw material extraction, processing and disposal.

Our products are thus biologically or technically recyclable. They all have positive properties.

Superseven has specialised in recyclable product developments with a focus on compostable packaging solutions.

With the Repaq packaging brand, Superseven is the first company in Europe to offer transparent film packaging that is certified garden compostable when printed in colour.
Facts about SUPERVEN
Facts about SUPERVEN
Founding: 2017
Focus : Manufacturer
Here you will find SUPERSEVEN GmbH
1