Start-up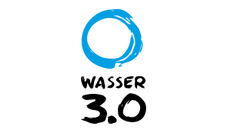 Wasser 3.0 gGmbH
About Wasser 3.0
Wasser 3.0 non-profit GmbH (gGmbH) is a green tech company from Karlsruhe, founded in 2020, which operates at the interface between materials science, water management and water technology.

The Wasser 3.0 strategy detect | remove | reuse focuses on innovative solutions for dealing with microplastics and micropollutants such as pharmaceuticals, heavy metals, PFAS, pesticides and / or fertilizers in various waters.

In view of the extent of global water pollution, we take a systemic approach and work with a focus on effective waste prevention strategies and preventive, environmentally friendly action, also in the areas of education and awareness.

As a sustainability entrepreneur, Wasser 3.0 acts non-profit, cross-sector and with the aim of making measurable contributions to the UN sustainability goals in the areas of clean water, green innovation, climate protection and responsible production.
Facts about Wasser 3.0
Facts about Wasser 3.0
Founding: 2020
Focus : Service
Industry : Waste disposal and recycling
Product portfolio of Wasser 3.0
Product portfolio
Here you will find Wasser 3.0 gGmbH