Starna Scientific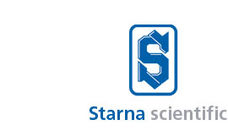 Starna Scientific Limited
About Starna Scientific
The wide variety of Starna® products produced by the Starna Group are manufactured at the Starna Scientific (Formerly Optiglass) factory founded in 1964, whose lineage of optical expertise is traceable to the early part of the last century. Starna Scientific Limited is a wholly owned subsidiary of the international group of Starna® companies whose reputation is synonymous with quality and service in the manufacture and supply of spectrophotometer cells, optical components and certified reference materials around the world.

In the 1950s, the founders of Optiglass developed and perfected the technique of fully fusing component parts by heat alone, without the distortion of optical surfaces. This major advance transformed the design and production of spectrophotometer cells and associated products.

Continual development and improvement is reflected in the high quality world class Starna® products illustrated on our site's. All manufacturing processes are carried out in our ISO 9000 certified production facility, from the design and development of products through to customised production machinery. The unique blend of skills including: cutting, slicing, grinding, polishing, conventional drilling, ultrasonic drilling and fusing as well as metallic, multi-layer and anti-reflection coating in one of many coating plants, achieves a complete vertically integrated process.

During manufacture of all component parts, special care is taken to avoid contamination by the use of stringent cleaning processes. Together with mandatory inspection procedures these stringent cleaning processes ensure that all products leave the factory in a pristine contamination-free condition, with an unconditional guarantee against faulty workmanship. This special treatment of cells also reduces bubble adhesion, which is of particular importance in flow cell applications.

In addition to ISO 9000 certification for production, UKAS accreditation to ISO 17.25 and ISO Guide 34 has also been achieved for the starna Scientific traceable reference material calibration laboratory, having established traceability to the USA National Institute of Standards and Technology (NIST) . Again the unique combination of manufacturing and application skills permits full traceability throughout the whole production process, making starna Scientific a much valued partner to instrument manufacturers, dealers and retail customers worldwide.
Facts about Starna Scientific
Facts about Starna Scientific
Founding: 1964
Focus : Manufacturer
Employees: 51-200
Industry : Laboratory analysis / Laboratory measurement technology
Certifications
Certifications
DIN EN ISO/IEC 17025
DIN EN ISO 9001
ISO Guide 34
Here you will find Starna Scientific Limited
1