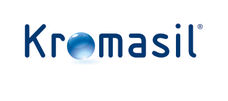 Kromasil by Nouryon PPC AB
Kromasil - Silica-based concepts for purification
About Nouryon
Kromasil -the Kromasil product line is made by the Separation Products group, or the Kromasil team, a group of people with skills in a wide range of areas. We are dedicated to our mission to develop outstanding packing materials for HPLC, to improve efficiency and decrease costs in your separation step.

When the first Kromasil silica-based packing materials were introduced in the market, they greatly improved the effectiveness of liquid chromatography. What made the new packing material so unique was the combination of high pore volume and surface area, together with a very high mechanical stability. Even today this combination of properties is unmatched by other chromatography packings on the market.

The perfectly shaped silica - the Kromasil platform is based on perfectly spherical silica-based materials to improve efficiency and decrease costs in laboratory analysis and purification steps..

Separation Products is a department within Nouryon, a global business unit with 2 400 employees in 35 countries, one of the world's largest chemical groups, with about 10 000 employees in more than 80 countries.
Facts about Nouryon
Facts about Nouryon
Focus : Manufacturer
Employees: 10001+
Certifications
Certifications
Products from Nouryon
Product portfolio
Product brands
Here you will find Kromasil by Nouryon PPC AB