Enzymicals AG
Your Experienced Partner for Biocatalytic Synthesis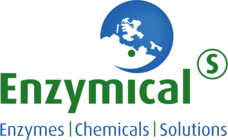 Profile
Since its founding in 2009, Enzymicals AG has created a customer-oriented industrial platform for the process development and piloting of chemo-biocatalytic synthetic routs for high-quality fine chemicals and has built a bridge between academic research and industrial application.

The focus of Enzymicals is to provide integrated solutions for biocatalytic applications. Dedicated to design, develop and implement cost-effective, sustainable and scalable chemo-biocatalytic routes. Enzymicals offers a recognized expertise in the application of enzymatic processes for the synthesis of complex chemicals up to industrial scale.

The independent enterprise provides state of the art SOLUTIONS in development, optimization and piloting of robust chemo-enzymatic processes for the production of fine & specialty chemicals. The company manufactures a range of CHEMICALS as chiral building blocks, intermediates and specialty chemicals as well offer custom synthesis on request. Enzymicals offers a broad selection of recombinant ENZYMES suitable for research, development, production and diagnostics as well as a tailor-made protein expression and optimization service.

Enzymicals service covers the whole value chain towards a tailor-made process for a special application: enzyme identification, expression, characterization, improvement and application in an efficient production process. Together with our network partners, we expand our service to ASMF filing, regulatory affairs, cGMP production and bulk scale supply.
Products
Product portfolio
chiral building blocks

E

nzymes
Services
C

ontract synthesis

P

rocess development services
protein expression services