Covestro collaborates with start-ups to foster innovation
Future of chemicals and data solutions in scope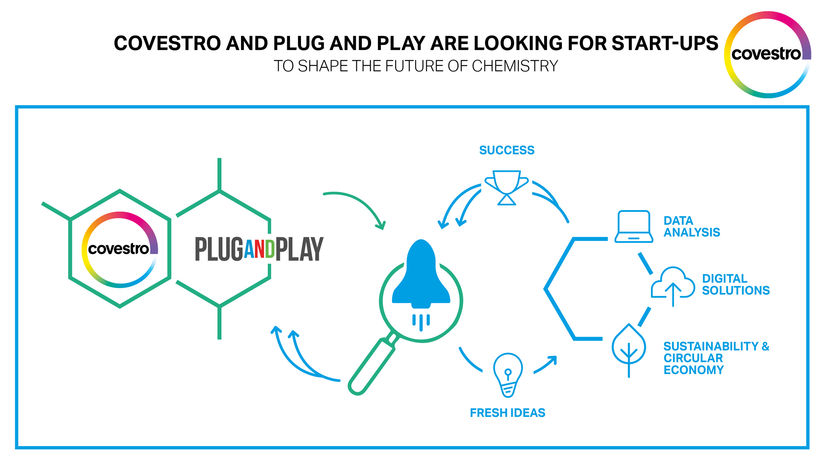 Covestro recently signed on as a participating corporation in the New Materials & Packaging platform of Plug and Play. The company also has opportunities to collaborate with entrepreneurs in other industry-specific vertical platforms of the accelerator, such as Mobility, the Internet of Things and Health & Wellness.
Start-ups for new materials, data and digital services are key
"We are intensifying our active cooperation with international start-ups from different angles. The partnership with Plug and Play is a very important proof point," explained Dr. Hermann Bach, Head of Innovation management at Covestro. "By working closely with start-ups in sustainable materials, data-driven business models and digital services today, we're staying on top of tomorrow's trends while working to solve the challenges of the future."
"Everyone benefits," agreed Saeed Amidi, founder and CEO, Plug and Play. "Covestro is gaining a fresh perspective while start-ups can take advantage of their global expertise and materials. We're very pleased to have them on board."
Plug and Play is the latest example of Covestro's commitment to fostering a more entrepreneurial and collaborative culture. Recently, five international start-ups have been awarded the Resource Innovator Award 2018 initiated by Covestro, the Technical University Berlin and the DECHEMA Gesellschaft für Chemische Technik und Biotechnologie. With its support for start-ups, the material manufacturer also underlines the use of sustainable sources such as plants and CO2 instead of oil.
Last year, the company launched the internal "Start-up Challenge", encouraging its employees around the world to submit their ideas for the chance to win 1 million Euro in seed funding and one year release to bring their idea to life.
"Innovation is at the heart of Covestro and collaboration with the start-up ecosystem is an important element of our innovation strategy. We'll continue to explore new ways to reach out and collaborate with start-ups," said Bach.
Other news from the department business & finance
More news from our other portals
Something is happening in the chemical industry ...
This is what true pioneering spirit looks like: Plenty of innovative start-ups are bringing fresh ideas, lifeblood and entrepreneurial spirit to change tomorrow's world for the better. Immerse yourself in the world of these young companies and take the opportunity to get in touch with the founders.