LANXESS presents challenging fiscal 2013
Realignment of Group started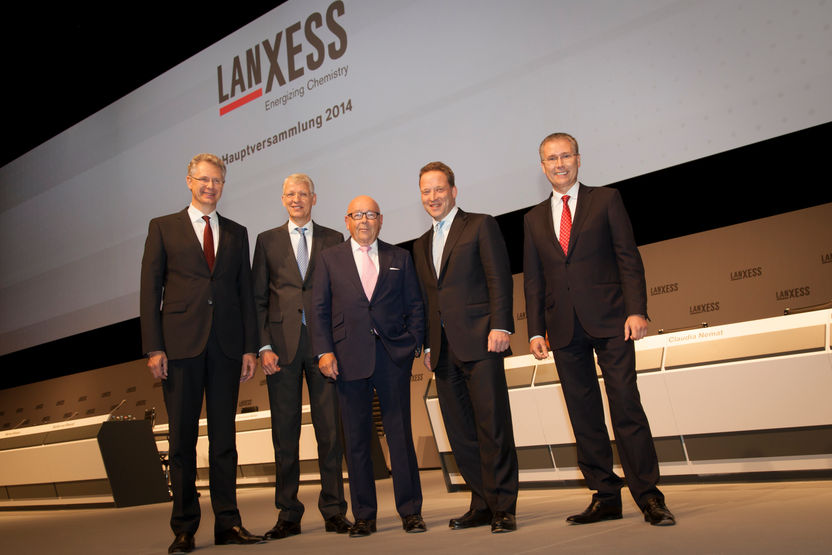 "We are currently facing major challenges – especially as the competitive environment for our business with synthetic rubber has changed. And this is clearly reflected in our results for fiscal 2013," said Matthias Zachert, Chairman of the Board of Management of LANXESS AG, in his speech.
In 2013, sales fell by 8.7 percent against the prior year to EUR 8.3 billion. EBITDA pre exceptionals decreased by 39.9 percent to EUR 735 million. The Group net loss of EUR 159 million was mostly attributable to impairment charges.
The Board of Management and the Supervisory Board proposed to the Annual Stockholders' Meeting that a dividend of EUR 0.50 per share be paid for 2013. The total payout amounts to about EUR 46 million.
Modest start to fiscal 2014
LANXESS' start to the business year 2014 was subdued. First-quarter sales were down by 2.5 percent year-on-year to EUR 2 billion. EBITDA pre exceptionals rose by 17.8 percent to EUR 205 million. Net income came in at the prior-year level of EUR 25 million.
"We were able to increase our operating result, but business still remains at a rather low level," said Zachert.
Realignment of the company started
LANXESS is currently developing measures to realign the company and to counter the ongoing challenges.
Administrative structures are to be optimized and decision-making processes streamlined. Customer and market orientation in the business units are to be improved. The profitability of the sites will be analyzed and consideration given to temporary or permanent shutdowns of plants. LANXESS will also explore options to make its rubber activities more competitive and to balance its business portfolio.
Zachert: "We must become significantly more competitive and profitable again. All teams are working with great effort and with the goal to bring LANXESS back on track."
Capital increase successfully completed
To help finance the realignment and generally strengthen the financial position of the company, LANXESS has increased its share capital by 10 percent, excluding the subscription rights of the shareholders.
At the beginning of May, the new shares were offered to institutional investors immediately by means of a private placement, using an accelerated bookbuilding process. The new bearer shares were placed at a price of EUR 52 per share. The placement resulted in total proceeds of around EUR 430 million.
Outlook
LANXESS anticipates that the economic environment will continue to slowly recover during the remainder of the year. The main impetus is expected to come from the established economic regions. The Group believes that the challenging competitive environment for its synthetic rubber businesses will continue.
In the second quarter of 2014, LANXESS anticipates EBITDA pre exceptionals to come in at between EUR 220 million and EUR 240 million. For fiscal 2014, the Group expects EBITDA pre exceptionals to be between EUR 770 million and EUR 830 million.
Cash outflows for capital expenditures will be at the level of the previous year, when LANXESS spent EUR 624 million. After the completion of the major growth projects in Singapore and China, the Group plans to reduce capital expenditures clearly below EUR 600 million in 2015. In 2016, LANXESS expects to invest between EUR 400 million and EUR 450 million.
"I would like to already prepare you today for the fact that the next two to three years won't be easy. But I am sure that LANXESS as a company will emerge from the realignment stronger than before," said Zachert.
Other news from the department business & finance
More news from our other portals