Online marketing expertise for launching a company successfully
CHEMIE.DE pledges "expert coaching" to winners of the competition "Science4Life Venture Cup 2016"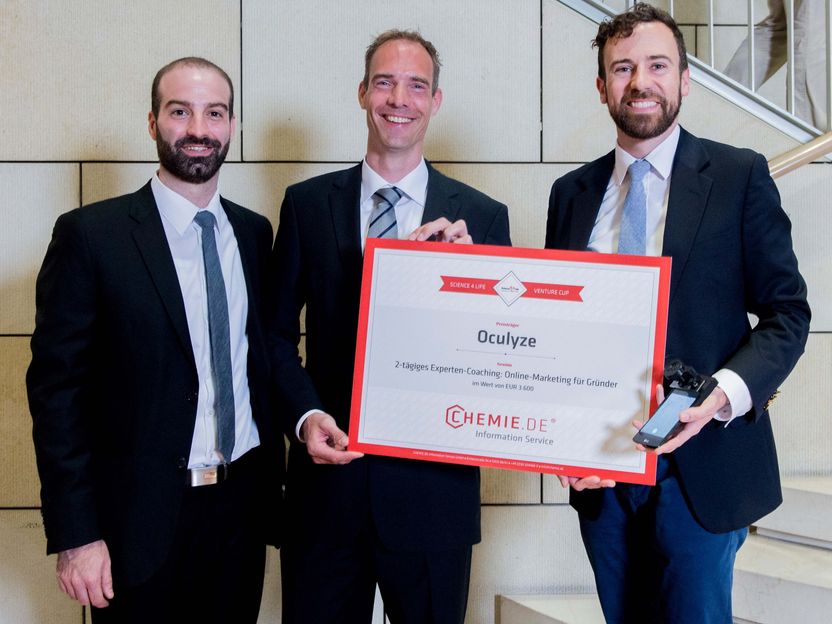 Science4Life e.V./Nathalie Zimmermann
The award-winning Oculyze team of entrepreneurs from Wildau near Berlin came up with the idea to automatically analyse microscopy images and subsequently submitted their business plan, which they had set up with the help of experts, to the "Science4Life Venture Cup 2016" competition. Their system, consisting of a smartphone, image recognition software and optical extension, can be used anywhere, at little cost and without microscopy skills. The first planned application will be the automated cell count and percentage determination of viable yeast cells, such as those used in brewing processes. Further applications are envisaged in medical, environmental and food technology. "This prize comes at just the right time because, after successfully concluding a pilot phase in the Berlin region, we are now focusing more on marketing. We hope attract the attention of breweries across Germany to our innovation and its potential to save valuable time and money", says Kilian L. Moser, Managing Director of Oculyze.
CHEMIE.DE, Europe's leading provider of scientific internet portals and log-standing hub of online marketing expertise, is a silver sponsor of the nationwide business plan competition. "We want to pass on the expertise we have gathered over the years to entrepreneurs in the chemical and life sciences, so they can get off to a good start," explains Stefan Knecht.
Other news from the department business & finance
More news from our other portals