SONGWON opens new Technology Innovation Center
18-Apr-2017
-
Korea, Republic of (South Korea)
SONGWON Industrial Co., Ltd. announced that it has officially opened a new Technology Innovation Center in Korea on March 23, 2017.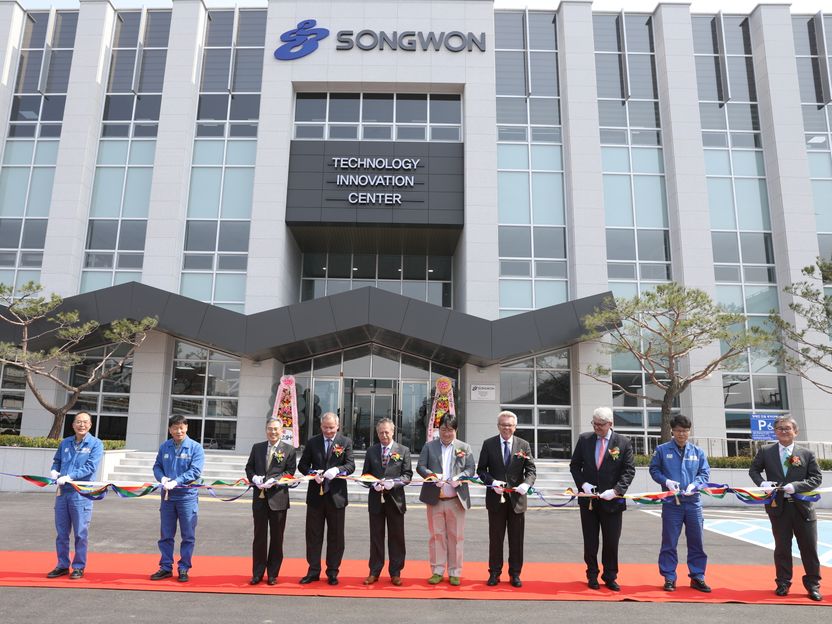 SONGWON Industrial Co., Ltd.
In line with the company's aim to strengthen its position on the global specialty chemicals playing field, SONGWON says that the new center is a major milestone for the organization. Not only will it support innovation, it will enable SONGWON to take another key step forward in entering new business areas with high value and sophisticated technology.
Located on the company's Maeam site in South Korea, the center encompasses 32,000 m² and is currently 3 stories high. However, keeping an eye on the future, the facility has been especially designed with future expansion in mind and is constructed to allow the company to add two more floors later as required. The new facility will host both R&D, Global Application Community and Technical Service. It will enable the organization to leverage the synergies between the groups, consolidate SONGWON's technologies and support the complete development of new products from the design phase to final customer applications.
The center will support the needs of the existing and new SONGWON businesses and includes analysis labs, synthetic rooms, clean rooms, kilos lab scale rooms, polymer processing and application labs.
SONGWON's Technology Innovation Center has been laid out to provide a stimulating environment that fosters creativity, forward-thinking and facilitate the exchange of know-how. It will also support SONGWON's efforts to translate market needs into innovative product solutions quickly and efficiently. Having such a facility means that SONGWON can continue its legacy of innovation by enabling the company to analyze, evaluate and launch new products at an industry leading pace which will ultimately create value for customers and help them gain a competitive advantage.
Commenting on the center, DK Park, Leader Research & Development said: "The new Technology Innovation Center will play a major role in securing a sustainable future for SONGWON. It will drive real innovation and help us to advance along our path of producing high end fine chemistry."
Other news from the department business & finance
More news from our other portals