Martin Christ Gefriertrocknungsanlagen
Alpha 1-2 LSCbasic
New intuitive control for our smallest powerful freeze dryer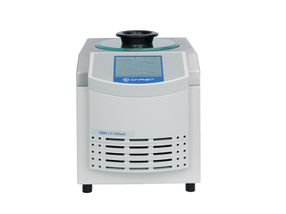 The Alpha 1-2 LSCbasic is our latest product highlight. The LDplus version has had its day - finally there is our smallest, powerful table-top unit with a new intuitive control system.
The freeze-drying process is now even more efficient thanks to the future-oriented technology. The colour 5.7" user interface impresses with its clear display with interactive visualisations of the system diagram and its easy handling. Automatic switching of freeze-drying processes makes everyday laboratory work more convenient. Automatic process sequences also ensure reproducible results. Other features include process data-acquisition, extensive messages (cause, action, effect), integration of the sublimation curve, multiple language options and much more.
We offer an Entry Package especially for the Alpha 1-2 LSCbasic. The powerful complete package is available from August 1, 2022. The attractive bundle price and short delivery time round off this unique offer. Find out more now (product flyer)!