Speed up process steps to save time and money with QuickPredict™
Trade and industry need to determine moisture content levels for various reasons such as adherence to regulations and product quality. These moisture determinations need to be carried out reliably and at a speed so that any interventions in the production process can be made quickly to avoid interruptions.

What is QuickPredict and what are the benefits?
QuickPredict is an embedded software functionality for moisture analyzers that allows the measurement time to be reduced to a minimum. The final result of moisture measurements which used to take 5–15 minutes, or even longer, is predicted shortly after the start of a measurement, i.e. after 2 minutes. This allows the user to base further analysis / process steps on the given prediction thus speeding up decision making and saving time and money.

The QuickPredict Guide explains how QuickPredict functions and gives detailed instructions how to set up QuickPredict. In addition, available settings for using QuickPredict in routine operation are explained.
White Paper classification
Download white paper now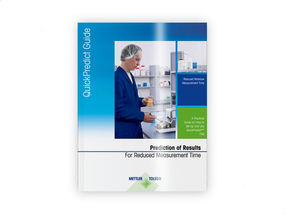 Reduced Moisture Measurement Time with Results Prediction
Speed up process steps to save time and money with QuickPredict™

All about Mettler-Toledo
You may also be interested in these white papers