Accurate and reliable automated filling into vials
Any manufacturer or department, who are responsible for supplying valuable chemical substances, will be familiar with the challenges associated with manual filling.
These substances may be certified reference materials and standards, catalysts or enzymes, reagents, or working standards of drug substances for internal use.
Whether you are a centralized repository serving other internal departments, or a chemical supplier selling your substances commercially, the challenge of preparing hundreds of vials or bottles per day are similar.
Read the application note and discover how automated weighing of powders can help you overcome these challenges in bottling and filling applications and enhance your processes.
White Paper classification
Applications
Product categories
Download white paper now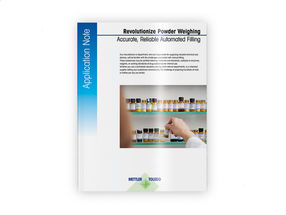 Powder dispensing solution for bottling and filling
Accurate and reliable automated filling into vials

All about Mettler-Toledo