Learn About Various Options from Paper to Fully Automatic Solutions
n recent years, the productivity at industrial operations has improved immensely. This also implies that there is an increased need for product testing, including conducting moisture content analysis. These analyses generate lots of data across different workplaces which require better traceability and improved means of handling data. Data is generated and stored today in multiple formats. The choice of the best-suited way should be made in alignment with required data handling needs and also what will be required in the future.
Our reference paper describes various options for data management with a moisture analyzer.
Download our free reference paper to learn how you can improve data handling and which halogen moisture analyzer fits best to your needs!
Download white paper now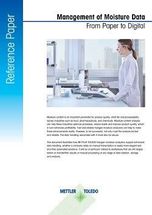 Data Management with a Halogen Moisture Analyzer
Learn About Various Options from Paper to Fully Automatic Solutions

All about Mettler-Toledo
You may also be interested in these white papers