Using Microbalances for Accurate Sample Preparation
Determination of the composition of an unknown sample, by analysis of its organic content, is a very important task in research or quality control departments in most industries. Quantitative elemental analysis is a fast and inexpensive analytical method used to measure the organic content of a sample. Mass percentages of organic elements (C, H, N, O and S) are determined in relation to the original sample weight, accurate weighing is therefore critical.
Learn more in our application note "Efficient CHNSO Elemental Analysis".
White Paper classification
Applications
Product categories
Download white paper now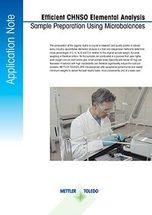 Efficient Elemental Analysis (CHNSO)
Using Microbalances for Accurate Sample Preparation

All about Mettler-Toledo
You may also be interested in these white papers