Options for Shortening the Test Time with Sartocheck® 4 plus
The integrity testing of sterile filters constitutes a critical and mandatory regulatory step in biopharmaceutical production processes. However, performing such filter integrity tests costs time. Indeed, it can take a good 20 to 30 minutes to perform a diffusion test, bubble-point test or water intrusion test. For this purpose, it appears desirable to come up with rational options for shortening the test time provided that the proper test results can still be guaranteed.
This application report describes several possible ways to reduce the test time required when using the filter integrity tester Sartocheck® 4 plus by up to 90%.
White Paper classification
Applications
Product categories
Download white paper now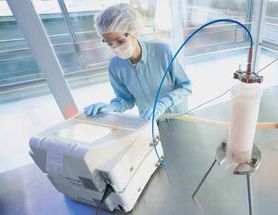 Filter Integrity Testing
Options for Shortening the Test Time with Sartocheck® 4 plus