AkzoNobel to work with world's coolest innovators and paint the future
14-Nov-2018
-
Netherlands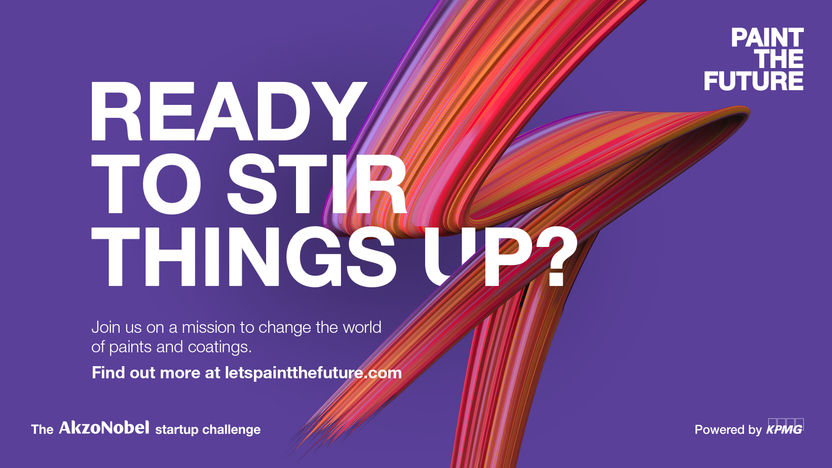 That's why the company is ready to stir things up by seeking out the newest, coolest, smartest and most revolutionary developments out there. AkzoNobel wants to combine its global scale, know-how and expertise with the ingenious solutions of startups and scale-ups around the world.
The company's Paint the Future innovation challenge aims to connect with new disruptive technologies and accelerate innovation in the dynamic world of paints and coatings. It's an open invitation to work together and turn exciting potential into brilliant reality.
"Our passion for paint and innovation goes way back and we're even more excited about the future," says AkzoNobel CEO, Thierry Vanlancker. "Led by our Chief Technology Officer, Klaas Kruithof, we want to work with visionaries and entrepreneurs, capture the creative genius that flows from open innovation and paint the future together."
Adds Kruithof: "As a technology-driven paints and coatings company, we're full of knowledge, know-how and resources that we're ready to share. We have a clear view of what our customers will need and expect in the future, so we're actively looking to collaborate with forward-thinking partners and take our innovation in all areas to another dimension. The future's a blank canvas – this is an exciting opportunity to help us paint it."
Launched in partnership with KPMG, the annual challenge will give the winners the chance to enter into a joint development agreement with AkzoNobel. It's focused on five key areas:
Predictable performance
Smart application
Circular solutions
Enhanced functionality
Life science infusion
Open to early stage tech companies and institutes around the world, the collaborative approach will benefit both sides, with the company committed to working with the winners on sustainable business opportunities.
Other news from the department business & finance
More news from our other portals
Something is happening in the chemical industry ...
This is what true pioneering spirit looks like: Plenty of innovative start-ups are bringing fresh ideas, lifeblood and entrepreneurial spirit to change tomorrow's world for the better. Immerse yourself in the world of these young companies and take the opportunity to get in touch with the founders.