SABIC and hte announce deepened partnership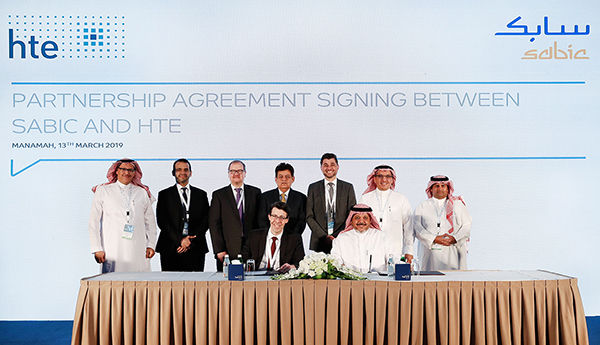 Dr. Fahad Al-Sherehy, Vice President, Technology & Innovation, SABIC and Dr. Wolfram Stichert, CEO at hte, celebrated the signing of the Umbrella Research Agreement at the 6th GPCA Research and Innovation Summit in Bahrain, held under the patronage of H.E. Shaikh Mohammed bin Khalifa bin Ahmed Al Khalifa, Minister of Oil, Bahrain, where SABIC participated as the platinum sponsor.
The agreement stipulates that SABIC and hte will maintain the operation of SABIC's satellite laboratory for high throughput experimentation in Heidelberg, Germany and will install and operate a new high throughput experimentation laboratory at SABIC's Corporate R&D (CRD) site at King Abdullah University of Science and Technology (KAUST). With this partnership, hte will also support SABIC in digitalization in R&D.
Building on the previous successful collaboration, SABIC and hte are extending their strategic partnership to include fast-track catalysis R&D. Under the agreement, SABIC will continue operation of the SABIC satellite High Throughput Experimentation Lab, established in 2015 at hte's facilities in Heidelberg. In addition, SABIC will have the opportunity to transfer hte's institutional knowledge to its own corporate R&D center at KAUST in Saudi Arabia.
SABIC and hte will also set up a new high throughput experimentation laboratory based on the established satellite laboratory in Heidelberg. This center will provide access to the latest technology and expertise to accelerate innovation in petrochemicals. Its close proximity to commercial plants will enable SABIC to support and optimize plant operation and productivity more efficiently. The overall aim is to decrease time and costs for the development of new catalysts and petrochemical processes considerably, and ultimately, to reduce their time-to-market.
Commenting on the umbrella agreement, Dr. Al-Sherehy, confirmed that the partnership is in line with SABIC's 2025 vision, addressing future R&D needs and local access to high-end solutions and technology. He stated, "We are happy to continue our collaboration with hte, a leading provider of modern R&D solutions and technology. By introducing hte's comprehensive, web-enabled data management solution myhte™ we also will address our goal to introduce digitalization in catalysis R&D. An innovative partner like hte will add value to our business in the long term, and this will significantly enhance our pace of innovation."
Dr. Wolfram Stichert, CEO at hte said, "The commitment for further cooperation with SABIC will take our relationship to the next level. We are proud to be SABIC's preferred R&D collaboration partner and to extend the footprint of our partnership into Saudi Arabia for the first time."
SABIC considers research and innovation to be a key pillar in the achievement of sustainable growth and competitiveness while considering the highest standards of safety, health, and environment, which set the groundwork for enabling Saudi Vision 2030. 
Other news from the department business & finance
More news from our other portals