European plastics companies withstand Covid-19 in H1
Many expect better business performance in the second half-year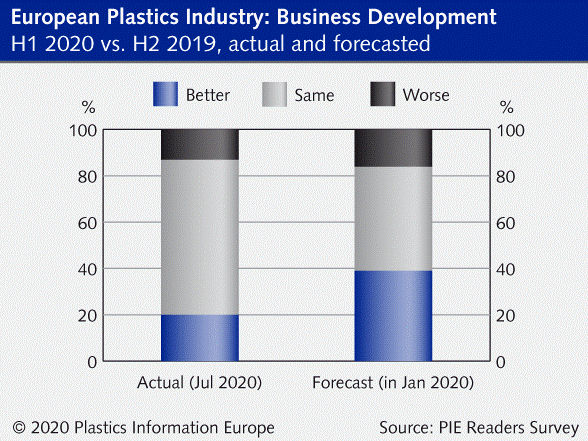 By location, companies in the Nordic region (44%) in particular noted that business was better in H1 2020. The countries with the largest share of respondents rating business in the first half as worse were those located in Central and Eastern Europe (CEE), with 33% rating H1 with poorer business performance.
Looking to the second half of 2020, 45% of all companies expect to see improved business performance compared to H1, while only one quarter foresee it declining. Approximately 50-60% of polymer producers, distributors, recyclers and brand owners expect better business performance in H2, while the share of plastics processors predicting this is 40%. By region, CEE businesses have a more pessimistic outlook.
A 48% share of respondents said their company's capital investment plans for tangible assets (property, plant and equipment) decreased in H1 2020 compared to H2 2019, while a similar share (47%) said investment plans stayed the same. Many polymer producers (65%) and brand owners (71%) notably saw investments falling in H1. Around half of plastics processors reported that investment plans were at the same level, and the other nearly half said they declined in H1.
European plastics companies said the top concern for business performance in the first half was sales volumes, with the respective second- and third-place concerns being hygienic measures/social distancing was in second place, unsurprisingly due to Covid-19, and selling prices. Liquidity is also a major issue for businesses for the remainder of 2020. It shows up in the top three concerns for the Benelux and CEE regions as well as France and Spain/Portugal.
Nearly three quarters of companies think the coronavirus crisis is creating changes in strategies for the entire supply chain. Around the same share also believe that sustainability should be a requirement for government financial aid in order to ensure a green economic recovery.
Other news from the department business & finance
More news from our other portals