Spin-off develops and distributes solutions for high-precision multi-material 3D printing
The technology forms a "missing link" for a wide variety of new application areas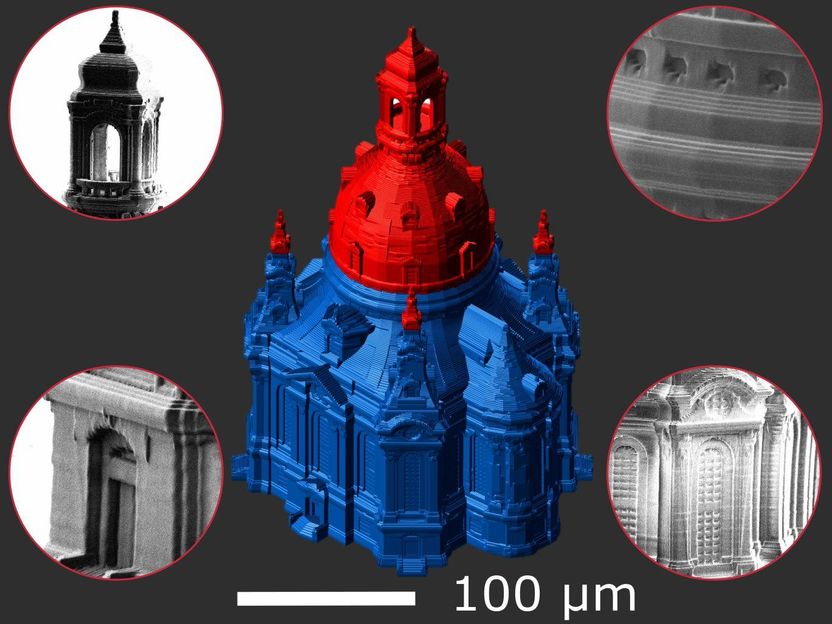 3D printing (or additive manufacturing) is one of the topics that transforms our future significantly and sustainable. This also applies to the production of next-generation microsystems. In this context, 3D printing requires high-performance processes comparable to those available today in semiconductor manufacturing of planar structures, for example. Two-photon polymerization (2PP) is one of the fastest and at the same time highest-resolution processes in additive manufacturing. With 2PP, 3D prints finer than a human hair can be produced - but so far only from single materials. This limits the fields of application and possibilities of this fascinating technology enormously. For prints made of several materials and thus several properties, the material exchange must be done manually so far - a very labour-intensive and time-consuming and thus expensive process step. Furthermore, printing with the new material must continue exactly where it ended with the previous material. However, with structure sizes in the sub-micron range, this realignment accuracy cannot be achieved manually.
HETEROMERGE has developed a patented process for automated material exchange for 2PP printer systems, which for the first time enables multi-material prints with structure scales down to 100 nanometers with the highest print head realignment accuracy of up to 10 nanometers after the material change independent of the print substrate. The automated material exchange is even up to 10x faster than the error-prone manual exchange. 3D printing is possible on all common printing substrates used in microsystems manufacturing (e.g. silicon, glass) as well as on passive and active structures such as integrated opticals, LEDs, lasers, opto-couplers or optical fibers. The technology forms a "missing link" for a wide variety of new application areas, especially in the fields of micro-optics and micro-fluidics as well as in photonics packaging, but also in the field of tissue engineering, and thus becomes an enabler for the industrial use of high-precision printer systems.
HETEROMERGE emerged from the research group MESO3D - Mesoscopic 3D Systems. The group led by Dr Robert Kirchner was integrated into the research cluster Center for Advancing Electronics Dresden (cfaed) in autumn 2021. Funded by EXIST research transfer, a program of the German Federal Ministry of Economics and Climate, the team is preparing the market entry since May 2022. The scientists found advice and support with the application process at dresden|exists, the startup service of Dresden's universities and research institutions. The consultants will continue to support the team through the whole spin-off process. The founders´ team has several decades of experience in the fields of high-resolution 3D printing, fluidics, polymer chemistry and material science, construction and has start-up and industrial experience.
HETEROMERGE is currently looking for more team members who are enthusiastic about helping to bring this revolutionary technology to market. At the moment, this applies in particular to the areas of hardware and software development as well as materials science and fluidics.
Other news from the department science
More news from our other portals
Something is happening in the chemical industry ...
This is what true pioneering spirit looks like: Plenty of innovative start-ups are bringing fresh ideas, lifeblood and entrepreneurial spirit to change tomorrow's world for the better. Immerse yourself in the world of these young companies and take the opportunity to get in touch with the founders.