Anton Paar: The new technology center
Anton Paar is constructing a new innovative building that will create space for up to 1,000 workplaces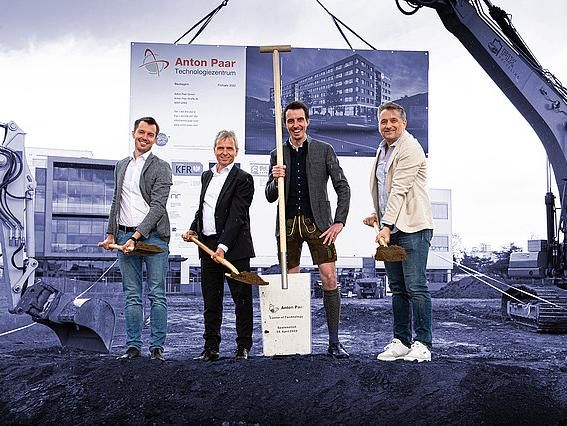 To make room for the new building, the three oldest buildings on the site had to be demolished in March and April 2022. With a gross floor area of 26,800 m2 , the building will be the largest at the site. All business units as well as the central research and development department will be housed in the new technology center. "650 employees will move into the new building in 2024. With the construction, we have not only created more space for growth, but the building is also technologically state-of-the-art," says Dominik Santner, referring to the solar thermal ice energy storage system.
Energetic innovation
For about 40% of the cooling and heating needs, this ice energy storage system is used with heat pumps: It is an underground basin with a diameter of 19 and a depth of six meters - this corresponds to a water volume of about 1.7 million liters. Before the summer, the water is frozen. The melting heat and then the cold water are used to cool the building. Heat pumps are used to transfer the heat from the building to the storage tank, which is then heated over the course of several months. At the beginning of the cold season, the storage tank is then warmed up and can be used to heat the building in the winter until it freezes again at the end of the winter. The innovative implementation costs around three million euros more than conventional heating/cooling systems. In addition, photovoltaic and solar thermal systems are being installed on the roof of the building.
Other news from the department business & finance
More news from our other portals