Strong tiny animals: Swarm transport system carries 40 tons
KIT Spin-Off Facilitates Relocation and Exchange of Production Facilities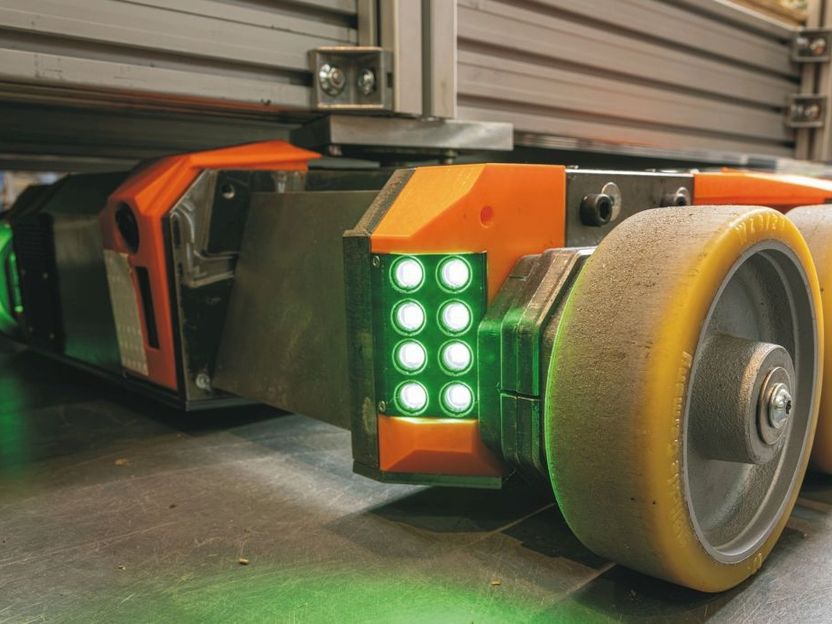 "Our system consists of a large number of separately driven vehicles that can lift a weight of up to 40 tons from the ground in a network and move it in a partially automated way," says Dr. Maximilian Hochstein from the Institute of Materials Handling and Logistics Systems (IFL) at KIT. Transporting such heavy loads is possible by coupling up to 15 vehicles. "These are interconnected by radio and equipped with cameras so that they coordinate themselves and act synchronously," says Hochstein.
Control via joystick
"Machines, plants, and goods of various sizes and weights can thus be lifted comfortably and safely by a single person and moved by remote control," explains Dr. Benedikt Klee from the wbk Institute of Production Engineering at KIT. The control system, a joystick, would still have to be operated manually, but the commands would be followed automatically. "The load is lifted from the ground and then moved in a highly flexible manner," Klee says. "Even a composite of three vehicles can transport a typical production machine in the manufacturing sector."
Triple innovation: concept, mechanics and software
The swarm concept itself is innovative, as are the mechanics of the individual vehicles and, finally, the control software, explains Tommi Kivelä of IFL. Theoretically, even more than 15 vehicles could be coupled and thus even heavier loads could be moved, "but there are still limits to this due to the safety control system."
The FORMIC founders want to appeal in particular to service providers for plant and machine relocations and companies that frequently have to carry out layout changes or machine transports internally. Manufacturers of large machines such as machine tools are also among the target group, since clocked flow production can be realized in the manufacture of even heavy machines.
FORMIC is funded by the EXIST start-up grant, a funding program of the Federal Ministry of Economics and Climate Protection for start-ups from science, and is supported in an advisory capacity by KIT-Gründerschmiede.
Note: This article has been translated using a computer system without human intervention. LUMITOS offers these automatic translations to present a wider range of current news. Since this article has been translated with automatic translation, it is possible that it contains errors in vocabulary, syntax or grammar. The original article in German can be found here.
Other news from the department research and development
More news from our other portals
Something is happening in the chemical industry ...
This is what true pioneering spirit looks like: Plenty of innovative start-ups are bringing fresh ideas, lifeblood and entrepreneurial spirit to change tomorrow's world for the better. Immerse yourself in the world of these young companies and take the opportunity to get in touch with the founders.