Advance brings 'hyperbolic metamaterials' closer to reality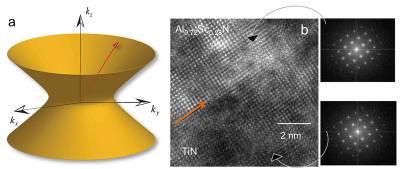 Optical metamaterials harness clouds of electrons called surface plasmons to manipulate and control light. However, some of the plasmonic components under development rely on the use of metals such as gold and silver, which are incompatible with the complementary metal–oxide–semiconductor (CMOS) manufacturing process used to construct integrated circuits and do not transmit light efficiently.
Now researchers have shown how to create "superlattice" crystals from layers of the metal titanium nitride and aluminum scandium nitride, a dielectric, or insulator. Superlattices are crystals that can be grown continuously by adding new layers, a requirement for practical application.
"This work is a very important step in terms of fundamental contributions in materials science and optics as well as paving the way to some interesting applications," Boltasseva said. "We believe this demonstration brings a paradigm shift to the field of metamaterials similar to developments that led to dramatic advances in silicon technology."
Research findings are detailed in Proceedings of the National Academy of Sciences.
Researchers created the superlattices using a method called epitaxy, "growing" the layers inside a vacuum chamber with a technique known as magnetron sputtering. It is difficult to use the technique to create structures that have sharply defined, ultra-thin and ultra-smooth layers of two different materials.
"This is one of the first reports of a metal-dielectric epitaxial superlattice," said Purdue doctoral student Bivas Saha, co-lead author of the PNASpaper with Gururaj V. Naik, a former Purdue doctoral student and now a postdoctoral scholar at Stanford University.
The list of possible applications for metamaterials includes a "planar hyperlens" that could make optical microscopes 10 times more powerful and able to see objects as small as DNA, advanced sensors, more efficient solar collectors, and quantum computing.
"Plasmonic and metamaterial devices require good material building blocks, both plasmonic and dielectric, in order to be useful in any real-world application," Boltasseva said. "Here, we develop both plasmonic and dielectric materials that can be grown epitaxially into ultra-thin and ultra-smooth layers with sharp interfaces."
Metamaterials have engineered surfaces that contain features, patterns or elements, such as tiny antennas or alternating layers of nitrides that enable unprecedented control of light. Under development for about 15 years, the metamaterials owe their unusual potential to precision design on the scale of nanometers.
Other news from the department science
More news from our other portals