LABVOLUTION with BIOTECHNICA: The world of lab technology
The highlight of the trade show is smartLAB – a special display that presents the laboratory of the future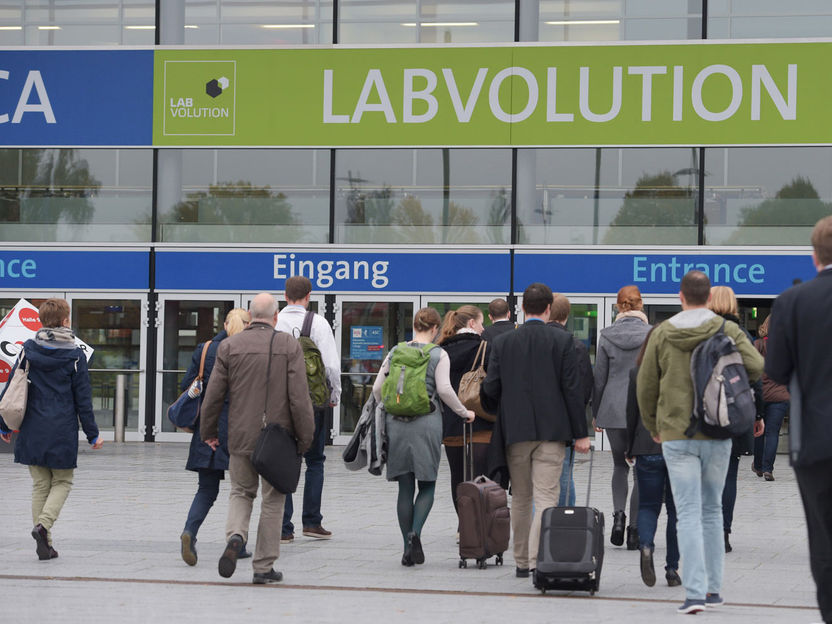 "We are very satisfied with the response to LABVOLUTION with the life sciences event BIOTECHNICA", reports Dr. Andreas Gruchow, member of the Board at Deutsche Messe AG. "The exhibition hall and the conference areas are fully booked. In fact, in order to meet exhibitor demand we had to release space that had been designated for organizational purposes."
This result was rather surprising – after all, the trade show is in the process of fairly radical transformation. After many years when the focus was primarily on biotechnology, the trade show organizers launched the new LABVOLUTION brand and thus embraced the entire world of lab technology and a much broader target group. Together with the life sciences event BIOTECHNICA, now a part of LABVOLUTION, the event continues to be a summit meeting for biotechnology and an important networking opportunity for stakeholders in this sector.
"The launch of a new brand while transforming an existing brand at the same time is always going to be an advertising and marketing challenge", says Gruchow. "We were greatly encouraged by the tremendous market acceptance we encountered. It is an experience that has been repeated universally. Once we have explained what LABVOLUTION is about and how we have positioned it, the measures we have taken are readily understood and endorsed."
New hall – shorter walking distances
The change of location on the Hannover Exhibition Grounds also met with a lot of support. In Hall 19/20 the exhibition and conference areas are located next to each other in one building complex close to the Nord 2 entrance which greatly reduces walking distances for trade visitors.
One of the key themes of LABVOLUTION with BIOTECHNICA is digitalization. At the special display smartLAB 14 partners from research and industry will be presenting their vision of lab technology in the era of Industrie 4.0. Together they will showcase a fully functional lab and use cases which provide live proof of how smart labs learn to think and communicate.
In addition, while diverse company stands will highlight new technology and networking, the keynote themes of digitalization and Big Data in biotechnology will play a major role at the BIOTECHNICA Forum and on other platforms. On the afternoon of the first day of the trade show discussions will take place between experts, including representatives from BIO Deutschland, about current technical standards, the equipment and devices used and how they communicate via which interfaces, as well as the potential for analysing large volumes of heterogeneous data. Despite earlier predictions of a paperless society there will also be a discussion about when print-outs might seem appropriate and necessary in the modern lab environment. The first day of the trade show will also see the Life Science Research Group highlighting the latest developments in bioinformatics in the Life Science Spotlight feature of BIOTECHNICA.
New format for training and lectures
Over the entire three days of the trade fair the BIOTECHNICA Forum will feature an interesting program embracing everything from genome editing in plant cultivation and optical technology to career development and further training. But that is not all. LABVOLUTION will also boast a new-style event called LabUSER, an exhibitor forum comprising two core elements: on the one hand, presentations of products and solutions, on the other hand, a program of training sessions. Companies can use the LabUSER exhibitors forum as an opportunity to show selected trade visitors presentations and information on product innovations and services. Due to the professional and relaxed setting it is also the right place for training sessions, some of which are accredited training courses and are offered free of charge.
Conference dedicated to 3D Printing
Another important aspect of digitalization will be highlighted in an event taking place parallel to LABVOLUTION with BIOTECHNICA: the British event organizers SelectBio are staging an international conference on "3D Printing in Science". This event will bring many of the leading academic players in this field together with key figures from the areas of industry in which this technology is increasingly making inroads. The keynote themes of the conference – which is taking place in the designated conference area in Hall 19/20 on 16 and 17 May – are cell sourcing, bioprinting, biomaterials, scaffolding, immunology and toxicology.
Other news from the department business & finance
More news from our other portals