Routine testing of balances and scales
Routine testing of balances and scales by the user is essential to uncover malfunctions early and eliminate inaccuracies that would otherwise go undetected until your next service calibration. More and more users are realizing that it is both less expensive and more efficient to build quality into weighing results from the start, rather than discovering problems later on.

This short guide explains the four pillars of successful weighing device testing: Test frequency, test methods, test weights and test tolerances. The guide provides easy-to-follow material which outlines how often to test, how to test and which weights to use to ensure proper balance function. Furthermore, links to helpful tools and complementary information are provided.

Discover what is really essential for testing your laboratory balances or industrial scales and how to put routine testing into practice to ensure your weighing results are accurate each and every day.
Download white paper now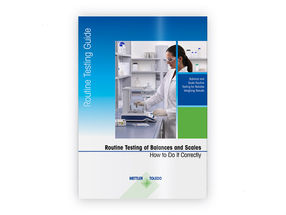 How to ensure accurate weighing results every day?
Routine testing of balances and scales

All about Mettler-Toledo
You may also be interested in these white papers