Verified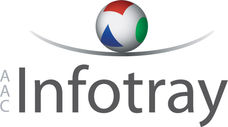 AAC Infotray AG
About AAC Infotray
Tailor-made software solutions

AAC Infotray is specialized in developing powerful software solutions. With Limsophy we have developed a robust and sustainable technology platform whose flexibility and modularity are also convincing in practice. Customers coming from the most different sectors trust our solutions to be able to completely map their business processes.

AAC Infotray makes its customers successful with tailor-made software solutions. Our solutions perfectly support the data flows of their processes. We bring your business processes into the digital world with the help of our software and highly competent advice. By digitizing business processes, AAC Infotray creates the best conditions for its customers to create new digital business models.

We plan and implement projects within interdisciplinary teams consisting of natural scientists, educational scientists and computer scientists. The quality of our solutions is controlled in a targeted manner by our quality management system and systematically improved. AAC Infotray has been working according to Total Quality Management since 2002. Our QM system is certified according to ISO 9001:2015.
Facts about AAC Infotray
Facts about AAC Infotray
Founding: 1999
Focus : Manufacturer
Employees: 11-50
Industry : IT
Here you will find AAC Infotray AG