Self healing robots that "feel pain"
12-Aug-2019
-
Switzerland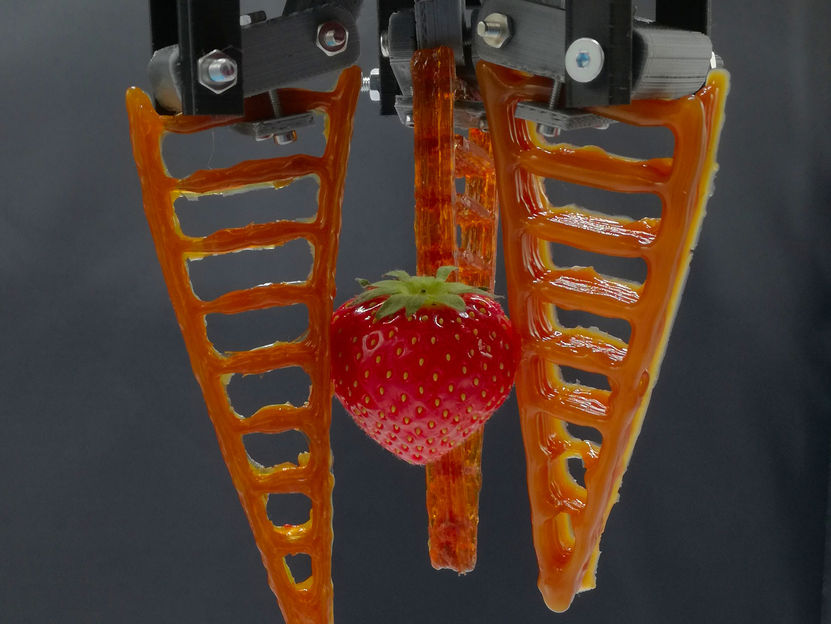 Vrije Universiteit Brüssel
Soon robots will not only be found in factories and laboratories, but will be assisting us in our immediate environment. They will help us in the household, to reduce our workloads and to make our lives safer. Robots will work side-by-side with us and it is important that this is done in a safe way. In order to enable manipulation of fragile objects with dexterity and to guarantee people's safety, many next generation robots are built from flexible materials. Because they are soft, they can't hurt people. But this, at the same time, means that these 'soft robots' are particularly vulnerable to cracks caused by sharp objects that are present all around us. The repairs which are needed to get those robots back to work often take time and are therefore very pricey.
To avoid this, the scientists will develop technologies within the new SHERO project that allow soft robots to self-heal damage. Because this repair process should not involve humans, the researchers are looking into self-healing materials to build the soft robots with. These flexible plastics can completely heal themselves when they are damaged. Imbedded functional material will assists to sense and actuate the self healing process. The ambitious goal of the European project is to create a soft robot made from a self-healing material, which can detect damage, take the necessary steps to (temporarily) heal the defect, provisionally as to complete the work in progress, or more completely during the service operation.
Partners contribute their special know-how to the project
This project is led by the University of Brussels (VUB) with a team of scientists of the robotics research centre Brubotics and the polymer research lab FYSC. Prof. Vanderborght, managing the project, explains: "We are obviously very pleased to be working on the next generation of robots. Over the past few years, we have already taken the first steps in creating self-healing materials for robots. With this research we want to continue and, above all, ensure that robots that are used in our working environment are safer, but also more sustainable. Due to the self-repair mechanism of this new kind of robots, complex, costly repairs may be a thing of the past."
Thomas George Thuruthel, Research Associate in Soft Robotics Sensing and Self-Healing at the Department of Engineering, University of Cambridge: "We will be using machine learning to work on the modelling and integration of these self-healing materials, to include self-healing actuators and sensors, damage detection, localisation and controlled healing. The end goal is to integrate the self-healing sensors and actuators into demonstration platforms in order to perform specific tasks."
Empa will focus on new flexible sensors and actuators, which can be embedded into the self-healing polymers. "In a first step we will embed our piezoresistive soft material sensor fibres in the self-healing polymer to sense continuously the strain and to detect the region where self-healing process has to be activated. In later step other kind of sensor and actuators will be integrated, depending on the final application", explains Frank Clemens, Group leader at the Laboratory for High Performance Ceramics.
Tonny Bosman, CEO of SupraPolix: "We feel privileged to be a partner in this consortium of Europe's top research groups on soft robotics. We are convinced that our self-healing materials can bring this field to the next level, thereby creating value for SupraPolix, robotics, and the community at large."
Other news from the department science
More news from our other portals