Merck's Acquisition of Sigma-Aldrich Receives Clearance from EU Regulators
Approvals Also Granted by Japan and China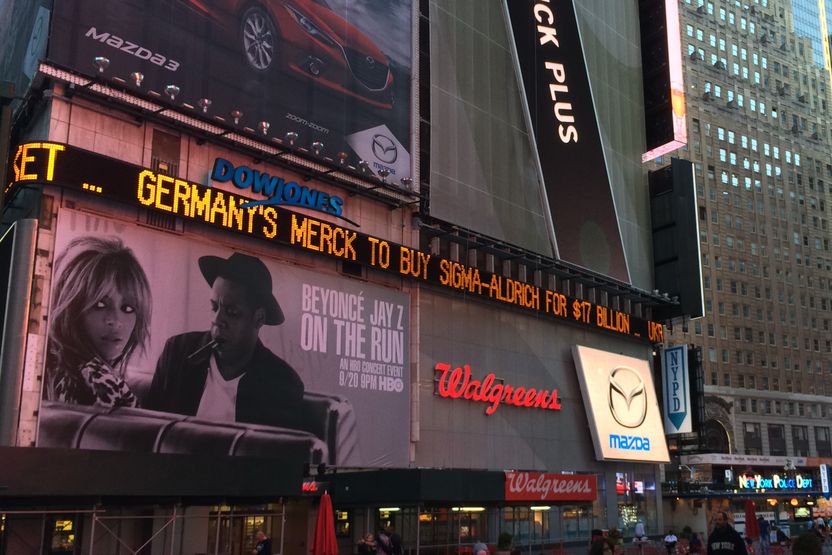 The EU clearance, which is subject to certain conditions, follows the recent antitrust approvals in Japan (JFTC) and by the Chinese Ministry of Commerce (MOFCOM). In addition, Merck has already secured antitrust clearance from the U.S., Taiwan, South Africa, Russia, Serbia and Ukraine.
"Those approvals are very important as we're working toward completing the acquisition of Sigma-Aldrich, and we remain excited about the transformational opportunities this acquisition will create for Merck in life science," said Bernd Reckmann, Member of the Executive Board of Merck. "We will now work with all related parties in the coming months to swiftly implement the commitments that have been agreed with the EU. As always, we are committed to ensuring a smooth transition for both customers and employees. We will work closely with employee representatives to ensure that our values as a responsible employer are reflected throughout the process."
As part of the EU commitments, Merck and Sigma-Aldrich have agreed to sell parts of Sigma-Aldrich's solvents and inorganics business in Europe. These include its manufacturing assets in Seelze, Germany, where most of the solvents and inorganics sold by Sigma-Aldrich in Europe are manufactured. In addition, the divestiture of solvents and inorganics sold by Sigma-Aldrich worldwide under the Fluka, Riedel-de-Haen and Hydranal brands as well as a temporary license to the Sigma-Aldrich brand for the supply of solvents and inorganics in the European Economic Area have been agreed. The commitments also include the transfer of customer information and a solution to ensure a temporary channel to the market.
Based on the recent clearances, Merck said it will continue to work toward a mid-2015 completion of the transaction as detailed on the occasion of Merck's first-quarter earnings release on May 19, 2015. The closing remains subject to certain other conditions, including remaining antitrust clearances from Brazil's Council for Economic Defense (CADE) as well as from the competition authorities of Israel (IAA) and Korea (KFTC). Merck will continue to closely cooperate with the relevant antitrust authorities.
On September 22, 2014, Merck and Sigma-Aldrich announced that they entered into a definitive agreement under which Merck will acquire Sigma-Aldrich for $17.0 billion (€13.1 billion), establishing one of the leading players in the $130 billion global life science industry. The acquisition is a key element in Merck's "Fit for 2018" transformation and growth program aimed at strengthening the company's three growth platforms, healthcare, life science and performance materials.
Other news from the department business & finance
More news from our other portals