Soil crusts emit nitrogen oxides and nitrous acid
Study shows that biological soil crusts release large quantities of reactive nitrogen compounds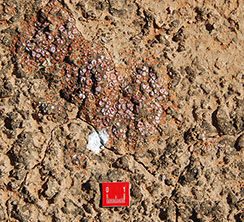 Small-scale power plants in barren regions
"Biological soil crusts are like small-scale power plants," explains Bettina Weber enthusiastically. "These layers, which are only a few millimeters thick, conceal a concentrate of organisms consisting of producers, consumers and decomposers and thus represent one of the smallest ecosystems in the world. This is where many processes important for the earth system happen in the smallest of spaces." As the study shows, biological soil crusts in arid regions clearly play a key role in releasing atmospherically reactive nitrogen compounds. "Precipitation plays a major role, since moisture triggers the metabolic process in biological soil crusts," adds Hang Su, who is also Group Leader in the Multiphase Chemistry Department at the Max Planck Institute for Chemistry and was involved in analyzing the data as a modeler.

Additionally, a team of researchers was recently able to prove, with involvement of the Max Planck Institute for Chemistry, that cryptogam layers also release nitrous oxide and negligible quantities of methane into the atmosphere. "Up until now, cryptogam layers were not included in global climate models. Given the number of new findings concerning how highly influential they are on biogeochemical cycle processes, they can no longer be left out," summarizes Hang Su.

Biological soil crusts make up around one-ninth of the Earth's surface. Since it can be assumed that climate change will continue to modify both the occurrence of soil crusts and the distribution and frequency of precipitation, the surface covers should be further examined and the results incorporated into computer models of the global materials cycles.
Original publication
Other news from the department science
More news from our other portals