Verified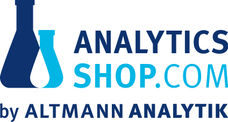 Altmann Analytik GmbH & Co. KG

About Altmann-Analytik
Altmann Analytik, Munich Germany, is a competent and independent dealer for lab consumables. Our web-shop analytics-shop.com caters more than 100.000 products in the areas of chromatography, spectroscopy and sample preparation.

The company offers consumables ans spare parts of many renown companies such as:

ACE, Agilent (inkl. Varian and Polymer Laboratories), Chiral Technologies, GL Sciences, Grace, Hamilton, Hellma, J.T. Baker, Macherey Nagel, Merck, Millipore, Optimize, Pall, Sartorius, SGE, Shodex, Thermo Fisher, Upchurch, Vici Jour, Vici Valco, Waters, GE Whatman and YMC.

Its special expertise is in HPLC columns of all sorts and producers.
Facts about Altmann-Analytik
Facts about Altmann-Analytik
Founding: 1974
Focus : Distributor
Employees: 1-10
Industry : Laboratory analysis / Laboratory measurement technology
Certifications
Certifications
News about Altmann-Analytik
Here you will find Altmann Analytik GmbH & Co. KG
See the theme worlds for related content