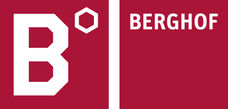 Berghof Products + Instruments GmbH
For superior laboratory work

About Berghof
Berghof – your professional partner in digestion techniques for over forty years

Berghof Products + Instruments GmbH develops, produces and markets innovative laboratory equipment all over the world. As well as microwave and pressure digestion systems high-pressure reactors for synthesis under pressure and systems designed for water determination belong to the range of products. The equipment is lined with, or entirely constructed of, high-quality fluoropolymers. The manufacture of fluoropolymers remains a core competence of Berghof. The material's outstanding chemical stability, the high maximum operating pressure and the high degree of chemical purity makes it the material of choice for much laboratory equipment. Pressure vessels manufactured with fluoropolymers are used by industry and in research in chemical laboratories all over the world.

Berghof Products + Instruments GmbH is part of the Berghof group of companies. In addition to laboratory equipment contract analysis, fluoroplastic products, control technology, membrane filtration, test engineering, automation and environmental engineering are further product areas of the group. The family-run technology company was established in 1966 and following the death of Prof Georg Zundel was headed by a second generation under the management of his sons Georg, Johannes and Maxim Zundel in 2005.
Facts about Berghof
Facts about Berghof
Focus : Manufacturer
Industry : Laboratory equipment / supplies
Certifications
Certifications
Products from Berghof
Product portfolio
Product brands
Here you will find Berghof Products + Instruments GmbH
1