New fumed silica plant by Evonik and Wynca goes on stream
Evonik's first fumed silica production facility in China starts operation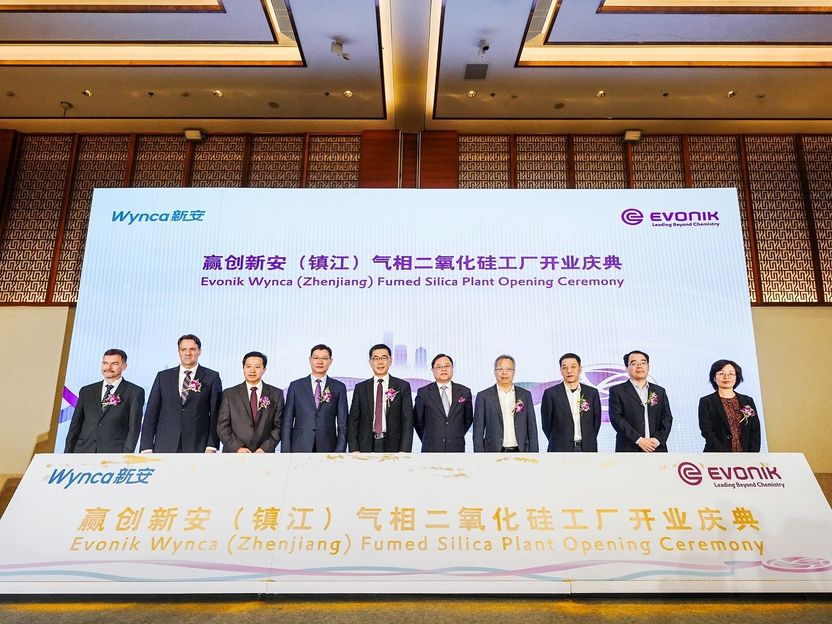 Fumed silica is an important functional material. With features such as thickening, thixotropy, anti-precipitation, and matting, it has been widely applied in industrial applications such as silicones, coatings, adhesives, and sealants. The demands for fumed silica in the Chinese market is growing steadily. Evonik is a leading global supplier of silica with its products widely used in many high-growth markets.
The joint venture will combine Evonik's product technology with Wynca's silicone industry chain, producing high-value fumed silica products through the comprehensive use of monomer by-products, methyltrichlorosilane and chlorosilane from Wynca. Meanwhile, the by-product hydrochloric acid will also be fully utilized as a raw material for Wynca Zhenjiang Site. This production loop is expected to contribute to synergies among silicone monomer, chlorosilane and fumed silica production, and ultimately to a circular economy. With this new joint venture, Evonik is well positioned to build a complete global supply chain of fumed silica for customers in China and Asia.
Dr. Claudine Mollenkopf, head of Evonik Silica business line said: "I am excited to witness the cooperation between Evonik and the Chinese partner Wynca. The joint venture will be a strong complement to Evonik's global presence in fumed silica. We expect win-win results through leveraging the expertise of both parties in silicon materials."
"The partnership allows both sides to realize integration and complementarity in the supply chain of fumed silica and the recycling of materials. The improved value chain will enable us to deliver premium services and products to customers in China and Asia," said Jianhua Wu, chairman of the Wynca Group.
Fuliang Xia, president of Evonik Greater China, said in his speech at the opening ceremony: "Since the plant broke ground in December 2019, we've completed the construction work on schedule with high quality and safety standards. We live up to our commitment to the customers. Evonik continues to develop its global footprint and focus on providing local customers with tailor-made products and services. We are also looking forward to joining forces with Wynca, our strong partner in China, to drive the growth in the Chinese market."
Other news from the department manufacturing
More news from our other portals