Merck cooperates with start-up HQS Quantum Simulations
Unique approach to quantum chemistry on near-term quantum computers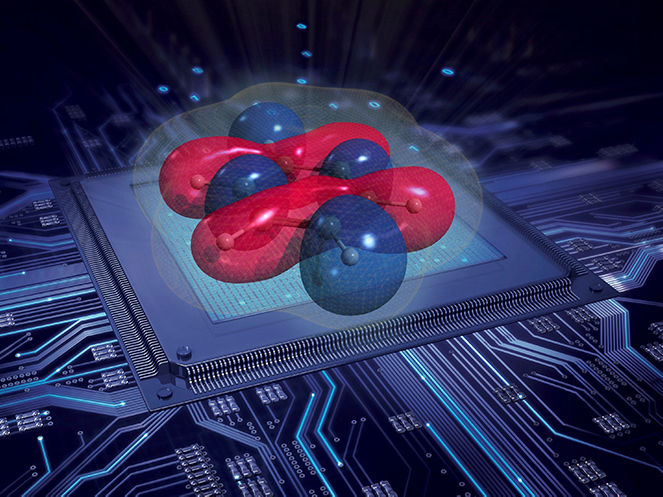 "Quantum computing is poised to disrupt classical computing and enable a variety of unprecedented opportunities. The applications touch upon many fields with direct relevance to Merck and to our customers, for example materials research, drug discovery, artificial intelligence, and e-commerce," said Philipp Harbach, Head of In Silico Research at the Chief Digital Organisation of Merck.
"We make software for near-term quantum computers," said Michael Marthaler, CEO of HQS. "Conventional simulation can be used to reduce the space of possible candidates. By using near-term quantum computers, it is possible to reduce the number of molecules that need to be tested even further."
HQS was the winner of the Anniversary Research Grant in Digitalization and Computing, one of the research grants Merck initiated last year during its 350th anniversary year. The startup has special expertise in enabling quantum chemistry on near-term quantum computers, specifically on Noisy Intermediate-Scale Quantum (NISQ) devices.
Merck has an interdisciplinary and cross-functional quantum computing taskforce in place. Merck's Chief Digital Organisation has strong expertise in quantum chemistry, an application which will be one of the first to benefit from the advent of quantum computers.
Quantum computing is a fundamentally new computing architecture that creates a new paradigm for computational capability potentially extending far beyond classical computing. In essence, quantum computers replace the functional unit of classical computers (bits) with new functional units (quantum bits, or qubits) which have massive parallel computing power. For specific problems, quantum computers reduce the total number of calculation steps exponentially.
The past three years have seen an unprecedented increase in public funding of quantum computing in all major countries around the world. Established public funding programs are in place for academia and private and public industry to spur technology development. Academic excellence in quantum computing exists around the world.
NISQ computers suffer from big quantum errors and pose a great challenge to near-term applications. Overcoming these obstacles through new, groundbreaking approaches is a major element of this cooperation. With regards to possible applications, the field of chemistry is expected to be the first to use quantum computers, enabling the performance of scalable and accurate quantum chemical calculations. The other three major fields that will benefit from quantum computers are predicted to be artificial intelligence, finance and pharmaceutical research.
Other news from the department business & finance
More news from our other portals
Something is happening in the chemical industry ...
This is what true pioneering spirit looks like: Plenty of innovative start-ups are bringing fresh ideas, lifeblood and entrepreneurial spirit to change tomorrow's world for the better. Immerse yourself in the world of these young companies and take the opportunity to get in touch with the founders.